Daruma Sashiko Thread from Orimono Imports

After a whirlwind spring & summer with my Hawaiian grandchildren, I am finally getting back to designing. I am working with 29 colors of the
Daruma thick sashiko threads
, a rainbow of vivid colors across the spectrum
.

Love them! They are wound on cards instead of in skeins, making them very easy to use and store, No tangled messes. The thread has the fuzzy look of traditional sashiko thread, but pulls through background fabric like butter and rarely knots. It remains twisted and intact, without any shredding after stitching a full length of thread. A winner!
Daruma sashiko threads
come in two weights: thin sashiko thread 20/4-40 meters wound on black cards, and thick sashiko thread 20/6-30 meters on white cards.I use the thick sashiko thread for most of my designs, but use the thinner for small delicate designs. I am experimenting with combining the two.
Check out our large and small boxed sets of
Daruma Thin Sashiko thread;
a perfect gift for yourself or a sashiko friend.
We also are offering a collection of Daruma Thick Sashiko threads, unboxed.
We are very excited about working with Thomas Henderson and company at
Orimono Imports
located in Alameda California. In addition to sashiko thread, their indigo fabrics are perfect for sashiko and we look forward to bringing in beautiful new fabrics with their next shipment.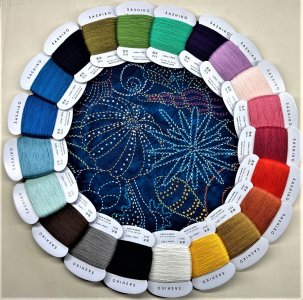 I just picked up the
Forest Friends
quilt from
Jo Baner
of
Quiltography
in Bellingham, WA and am thrilled with the result!
Jo is a master free hand long arm quilter. The quilt pops with added texture and movement to each block landscape. Her work is precision artistry!
Kudos Jo!
Check out her
website
and quilt gallery.
Forest Friends
Block of the Month program started February 1st but you can hop on board anytime. NO Subscription required or commitment to purchase all monthly blocks. Buy what you like or all 14. We make up the kits on demand, so no risk of losing out.
Happy summer Everyone!

The Garden Vignettes BOM 2021 is a mystery no more! The top is finished and ready to be machine quilted. We decided to present this year's BOM differently; no obligation to sign up and commit to the whole 11 months as we have done in the past. Instead, you can order each block whenever you want, use them as stand-alone design, or complete the whole quilt.
We package the kits on demand, a win -win for everyone. We can source all the fabrics as needed so you will not lose out if you discover the BOM mid- year.
Here is a list of the blocks:
#1 Frog & Flowers
#2 Two Robins
#3 Humming bird and Fuchsias
#4 Hydrangeas
#5 Watering Can Bouquet
#6 Baby Birds
#7 Puppy Love
#8 Dandelions & Bumblebee
#9 Strawberries!
#10 Morning Glories
#11 Veggies & Friends